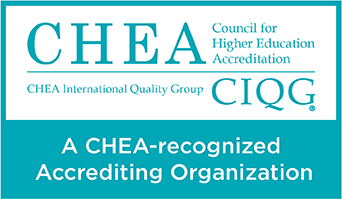 CAHME was re-recognized in September 2014 from the Council for Higher Education Accreditation (CHEA) for a period of ten years. CHEA is a national advocate and institutional voice for self-regulation of academic quality through accreditation. CHEA also serves as a primary national voice for accreditation to the general public, opinion leaders, students and families.
CHEA recognizes 60 institutional and programmatic accrediting organizations. It serves as the only nongovernmental organization in the United States that undertakes scrutiny of higher education accrediting bodies. Recognition is given only after assessment and affirmation of the quality of the accrediting organization. As we hold our accredited programs to high standards, CAHME itself undergoes this peer review process to achieve excellence in accreditation of graduate programs in healthcare management. CHEA recognition ensures that CAHME adheres to the high standards as set forth by CHEA that include:
Advancing academic quality.
Demonstrating accountability.
Encouraging self scrutiny, planning for change and needed improvement.
Employing appropriate and fair procedures in decision making.
Demonstrating ongoing review of accreditation practice.
Possessing sufficient resources.
CHEA serves students and their families, colleges and universities, sponsoring bodies, governments, and employers by promoting academic quality through formal recognition of higher education accreditation bodies and coordinates and works to advance self-regulation through accreditation.